Our Philosophy
Officially, CBS Records' purpose as defined by its legal status is:
"La production, la promotion et la diffusion de musiques, principalement, mais non exclusivement, dans les styles jazz, blues, pop, et créées par ses membres, ou toute autre activité liée à la création, production ou promotion musicale ; cette activité pouvant prendre des forme diverses, liste non exhaustive, l'organisation ou la participation de spectacles cabarets et concerts amplifiés ou non, la production pour la promotion de supports musicaux et audiovisuels existant ou restant à inventer ; toutes autres activités liées aux spectacles musicaux, la production et diffusion de musique sur internet, ou tout autre média".
Which could be roughly translated as: "Whatever we feel like doing, we'll do it, as long as it's fun, musically relevant and comes with
lots of beer
."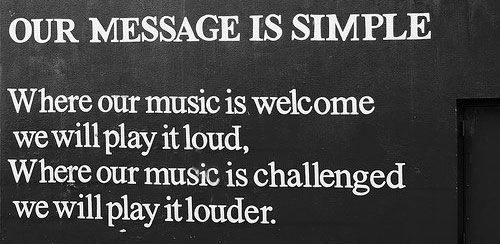 As for our philosophy as a music label:
- We dig The Beatles. If you don't like them, get lost. Preferably at the bottom of a river with a 2-ton cement shoe.
- We like The Velvet Underground, Madeleine Peyroux, The Animals, The Beatles, Beck, David Bowie, Johnny Cash, CCR, Donovan, The Doors, The Flaming Groovies, Hot Tuna, Jefferson Airplane, John Lennon, John Lee Hooker, The Kinks, Pat Metheny, Van Morrison, Nouvelle Vague, Pink Floyd, The Police, Lou Reed, The Rolling Stones, Tom Waits, Frank Zappa, but not necessarily in that order.
- We think that Neil Young and Dylan must have written half of the best folk tunes of the golden era of rock music. On the other hand, they probably wrote half of the crappy ones too, but that's fine with us.
- We still haven't decided whether the Fillmore Concerts were one big joke aiming at fooling around two generations of rock critics, or if the Allman Brothers were actually serious about the 34 minutes-long "Mountain Jam". Anyway, we love it.
- We enjoy spending our Sunday nights comparing the musical merits of the early Kinks albums. We're pretty sure no writers and journalists have depicted the English society of the sixties better than Pete Townshend or Ray Davies have.
- We entertain a love & hate relationship with pop music (see:
"The Pop Warning Disclaimer"
).
- We will never, ever, produce a song written in the key of G# flat. This is a hardcore principle on which we can't bargain.
If you think you're in line with our way of thinking, feel free to
send us your music
, we are always in search for new talents. If your band includes a blonde female lead singer, please be sure that she has a thick, Nico-style, German accent. This is mandatory, folks.
Cheers,
The CBS Team